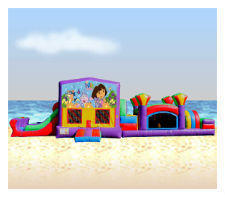 Dora Obstacle Course OC403/C212
Outlets: 2 Electrical Outlets Within 100 feet





$1.00

Please call to reserve this item.

Dora Obstacle Course Rental
Come join Dora the Explorer and her monkey Bootz for a jungle expedition in your own backyard. Dora needs your help overcoming all the popup obstacles, puzzles, and challenges to get through her wild and fun quest. Be sure to watch out for Swiper, the swift little fox, and make sure he doesn't ruin the party! All you have to say is "SWIPER, NO SWIPING"! While you are at it, be sure to holler "BACKPACK, BACKPACK" to make sure you can get through the jungle safe and sound. Kids, once you are done bouncing, make sure to shoot a few hoops into the basketball hoop on you way to the climbing wall. Once you have made it all the way to the top of the climbing wall, LOOK OUT...you can slide all the way down to escape Swiper or you can choose to go to the obstacle section and dart through the tunnels, chutes, and popup obstacles. Once again, make sure Swiper is not hiding behind any of those obstacles! When you are done... you can say, "WE DID IT! YAY!" This obstacle course features a 15x13 Jumping Area, Basketball Hoop, Climbing Wall, 8' Tall Dual Lane Side with a Dual Lane Obstacle Course. 45 feet Long x 13 feet Wide x 13 feet Tall. Great for all children ages 3 and up. Requires two 15amp electrical outlets.


Secure your date!
Book Online Today!