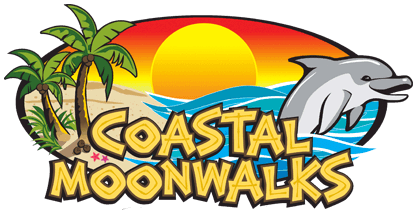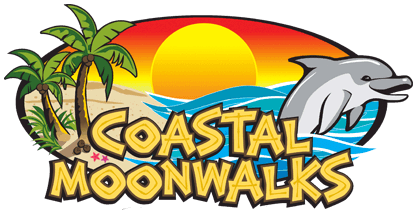 Frequently Asked Questions

- Coastal Moonwalks Jacksonville, FL
What are your prices?
We offer 5 types of rentals:
Daily Rental - 6 hour rental with a pickup by 7pm. 10% additional charge per hour beyond 6 hours.
Overnight Rental - Daily rental plus overnight. Pickup by 10am next day. Daily rental rate + 25% additional charge.
After Hours Rental - Any rental that takes place after 7pm inwhich the customer would need services (pickup/delivery/attendants) after our standard rental hours. Please call us for pricing.
Muliple Day Rental - Rental for mulitiple days. Full price for first day and 60% for each additional day.
Customer Pickup Rental - Discounted rental rate on select rental items. You come by our warehouse to pickup equipment and setup at your location and return to us at the end of your rental period. Please visit Customer Pickup Page for details.
All daily rental rates are published in each game description above it's picture. You can order for a longer period for an extra charge. Rates are subject to change without notice. Your rental price is locked-in with a confirmed reservation. Price's are plus sales tax. Some discounts may apply on multiple item rentals. Delivery fee may apply for deliveries beyond 10 miles from our warehouse.
Does Coastal Moonwalks have liability-insurance?
Absolutely. We are insured with at least enough liability insurance to do business with the city of Jacksonville, the schools department, the parks and recreation department, business corporations, and other organizations or association's that require their vendors to be insured and are able to provide you with a copy of our certificate of liability insurance. Please understand that our insurance covers our liability only.
Does Coastal Moonwalks regularly maintain, clean, and disinfect their inflatables?
Yes we do. We maintain our inflatables every time they are used. Our inflatables are inspected for worn areas that might cause a safety concern. We then clean and sanitize our inflatables with Matt-Kleen™ All Purpose Disinfectant Cleaner by Cramer Sports, which is is effective against Staphylococcus aureus, Salmonella Choleraesuis, Pseudomonas aeruginosa, Streptococcus fecalis, Escherichia coli, Salmonella typhosa, pathogenic fungi, Tricophyton interdigitale (athlete's foot fungi), Herpes simplex, influenza A2, Adenovirus type 2 and Vaccinia viruses.
What area does Coastal Moonwalks service? Is there a delivery fee?
We service all of Northeast Florida. There is no delivery charge to certain areas of Jacksonville, Ponte Vedra, Jacksonville, Neptune, & Atlantic Beach, St Augustine, Mandarin, Nocatee, Wold Golf Village, & the Intercoastal area. To check our free inflatable delivery area visit our delivery webpage . We will waive delivery fees to locations outside of the free delivery areas of Jacksonville metro, Beaches, Nocatee, World Golf Village, St Augustine area with a minimum rental amount. Our delivery fees are very reasonable in the event we have to charge delivery fees.
What forms of payment do you accept?
We accept MasterCard, Visa, Discover, AMEX, Cash, and Business Checks. If you have another form of payment, please call us and we can make an arrangement.
When is my payment due?
Your 25% deposit is due at the time of securing your reservation and your final balance is due by the day of your event at the time of delivery.
Does Coastal Moonwalks require a deposit?
We do require a 25% deposit (advanced payment) on all reservations. We require this payment be made with a credit card to secure all reservations. All deposits must be made using a major credit card or business check.

What is a Damage Waiver and what does it cover?

Damage waiver is a program that we offer to waive unintentional damage to our equipment for a 7% fee. The damage waiver (if purchased) will cover accidential unintentional damage to the equipment rented such as; burst seems, broken handles, torn vinyl. If the damage waiver is purchased and there is accidential and unintentional damage to the equipment, we will waive any repair fees or replacement costs for damage to the equipment. It is important to understand that this damage waiver does not cover any damage that is done intentionally or due to your negligance. The damage waiver does not cover theft, vandelism, silly string, well water stains, pet damage, gum, paint, pens or markers, misue, abuse, fire damage, or intentional damage to the equipment. The lessee will incur charges for any theft or vandelism, silly string, pets damage, liquids, confetti, or intentional damage to the equipment. The damage waiver is void if the equipment is moved from the original location where our installers set it up. Please call our office to discuss this damage waiver program if you have any questions.
Does Coastal Moonwalks charge cleaning fees?
NO, under most normal circumstances. We do not charge a cleaning fee if the equipment is used as intended unless there is obvious abuse to our equipment. If any substances such as excessive dirt/mud, oil, soap, silly string, foam, glitter, confetti, etc. are found on our equipment when we arrive, we will chage a damage/cleaning fee. Please be advised that we absolutely DO NOT ALLOW SILLY STRING in/on, or near our inflatables. silly string damages the equipment. We charge a minimum damage/cleaning fee of $250 for any silly string found on our equipment. WELL WATER? Does your well have rust? Please be advised that we prefer to not hook our water slides or equipment up to well water. Sometimes the well water will stain the vinyl of the inflatables. We will change an extra cleaning IF your well water stains our equipment. The minimum damage/cleaning fee for well water stains is at least $250.
How far in advance can I reserve a Jumper or Slide?
You can reserve an inflatable at anytime. In most cases we will have an inflatable available for your event, even with a last minute booking. The earlier a reservation is made, the better selection of equipment you will have. If you would like a specific item, we strongly recommend that you call as soon as you know the date of your event. We appreciate as much advance notice as you can offer, but we will do our best to work with you even if it's a last-minute request.
What about delivery and set-up. Who does the work?
We do all the work. Coastal Moonwalks is a professional full-service inflatable rental company.
How long can I keep the Inflatable? When will my delivery be?
Your rental is for the day(s) of your event, up to 6 hours per day for the regular daily rental rate. You can choose to rent the equipment longer for an additional rate. Typically, we make deliveries in the morning and return to pick-up the equipment before sunset. Our delivery goal is to arrive at least 2 hours before your event starts and pick-up within an hour after your event. We do understand that sometimes this is not possible or it is inconvenient for you, so we will make the delivery at a time that best serves you, within reason. Please understand, sometimes we are so busy that we cannot accept specific delivery time requests. We do our best to deliver to you at a conveinent time. We guarantee that your rental will be delivered and installed by the time your event starts. Serving your needs is Coastal Moonwalks first priority.
What type of surface can you setup the Inflatable on?
We can set-up an inflatable on many surfaces (grass, asphalt, concrete, inside, outside, etc.). It is very important that the location is flat, level, and smooth. It is also imperative that the location allows for overhead clearance from any trees, power-lines, is free of debris, animal droppings, hazardous materials, etc, and is easily accessible. When you make the reservation, our staff will make sure to ask you these questions.
How much space is required for setup and proper use?
Generally, a 20-foot by 20-foot area is sufficient for most standard bouncers. It is ideal that there be at least a 5 foot buffer zone around all Inflatables. Most of our Inflatables are different dimensions. You will find the dimensions on the website next to the specific inflatable. Our staff will discuss the required dimensions when you call for a reservation. Additionally, if the setup location is fenced, we will need approximately a 4-5 foot access gate to load/dolly the giant inflatables into position for setup.
Can an inflatable be setup indoors?
Absolutely! We love indoor set-ups. There will need to be a doublewide door allowing access of the large inflatable roll-ups. There will also need to be a tall ceiling to allow for overhead clearance of the Inflatables when erect. If you have access to an indoor gymnasium or conference room, there is no need to be concerned with inclement weather conditions.
How many kids can be in the moonwalks at a time?
The moonwalks & bounce house's can hold approximately 8-10 children under 8 years old at a time, 6-8 children 8-11 years old, & approximately 5 children over 11 years of age. Our bouncers have an 600-800lb capacity. Limits are to be followed for the children's safety.
Do I need to provide anything or do anything special?
The delivery driver will need to know the location where you would like to set-up & will need to know the location of the electrical source. We will provide and set up all necessary equipment. The blower will need to be located within 75 feet of a designated, grounded, 3-prong, 110v, 20amp, standard electrical outlet. We will provide the electrical cords to hook up to your electrical outlet. We ask that the customer provides water hoses for all water slides or water games. If the setup location is fenced, we will need approximately a 4-5 foot access gate to load/dolly the giant inflatables into position for setup.

Underground Utilites. Where are they located?
Our delivery staff will need to stake/anchor the inflatable/games into your ground using 24 inch anchors. it is advised that you contact your local utility company at least 4 days before we come out, to survey & mark your utility lines before we stake our inflatables into your ground. You can call 811 to speak with your local utility company and setup an appointment. It is a free service offered by your local utility company. Coastal Moonwalks cannot be responsible if our 24 inch achors/stakes punctures your underground utilites. It is the homeowners responsiblity to know where underground pipes and utilities are located and to show us at the time of installation.
What is Coastal Moonwalks policy on inclement weather?
Inflatables can be very slippery and dangerous if they get wet. To avoid injuries, children must exit inflatables while it is raining. It is the customer's responsibility to ensure the children's safety in the event of adverse weather. Inflatables can be toppled in high winds and must be deflated when there are winds in excess of 20mph.
What is Coastal Moonwalks policy regarding delivery and set-up with inclement weather forecasted?

Coastal Moonwalks reserves the right to cancel a rental or postpone delivery if we feel the setup would be done during dangerous weather conditions or if the forecast calls for dangerous weather conditions during the rental period. Dangerous weather conditions includes (not limited to): lightening, winds in excess of 20mph, hurricanes, tropical storms, tornado watches and warnings, severe thunderstorm watches and warnings, heavy rain, flood watches and warnings, etc.

Usually, if the weather is forecast to be adverse, but has not arrived, we will leave it up to the customer as to whether to deliver the Inflatables or not. If there is a bad storm in our area, we will call you before we depart our warehouse for your delivery. If you would like to reschedule due to bad weather, we ask that you call us as soon as you decide. If we do not hear from you, we will assume that the weather is clear in your area and will be there to set-up your event and payment will be due. Once that the equipment is set-up we ask that you observe the weather and the weather forecasts and make every effort to maintain the equipment in a safe manner in the event that it rains, thunderstorms, windy, etc. If the weather is not cooperating on the day of your reservation, please call us at least 1-hour before your scheduled delivery time and we will be happy to work with you to reschedule your reservation with no penalty.
What if I need to cancel or reschedule my reservation?
We ask that you reschedule (not cancel) your reservation. We do not charge rescheduling fees. If you need to cancel or reschedule your rental, please call us as soon as possible to discuss your options. We understand that things come up and we will work with you to choose another day to reschedule to. You can always reschedule your rental without penalty or additional fees. If you decide to cancel, please understand that we offer you a "credit on file" or "raincheck" (redeemable for up to 6 months) to apply towards a future rental for any prepayments or deposits that have been made, instead of refunds. Please see below for our policies on cancellations.
What is Coastal Moonwalks Cancellation Policy?

Except for weather cancellations, all cancellations (including rental downgrades) must be made at least 14-days prior to your rental date to avoid a 25% cancellation fee which is applied to your deposit or prepayment. If there is a rental downgrade where you change your order to a lesser priced item, the 25% cancellation fee applies to the difference between the original order and the final invoice.

If you cancel your reservation at least 14-days prior to your reservation date, there is no cancellation fee, you will have a credit on file (in the amount of your entire prepayment, redeemable for up to 6 months ) that can be used towards a future order with Coastal Moonwalks.

If you cancel your reservation less than 14-days prior to your reservation date, you will incur a 25% cancellation fee that will be applied to your deposit or prepayment. If you have prepaid your rental fees, any payment in excess of the cancellation fee will be credited back to you in the form of a "rain check", or "credit on file" that can be applied to a future reservation (redeemable for up to 6 months) with Coastal Moonwalks.

If you make a reservation anytime inside the 14-days cancellation window, you have 24-hours to cancel without incurring a 25% cancellation fee applied to your deposit payment. A credit will be applied for a future rental in the amount of your prepayment.
What is Coastal Moonwalks policy on adverse Weather Cancellations?

Adverse weather cancellations are accepted if it is observed that there is adverse weather in your area near the time of delivery or is forecasted on the day of your event (with a greater than 60% chance) to be in your area during the time of your event. Your weather cancellation must be made on the day of your event by calling our office 1-hour before your scheduled delivery. All deposits & prepayments that were paid while securing the reservation will be applied to a future order in the form of a "rain check" or "credit on file". No refunds will be given.
Exceptions to receiving a "rain check"
Weather cancellations made at the time of delivery will incur a 25% cancellation fee applied to your deposit payment.

Weather cancellations made on a day other than the event date, will incur a 25% cancellation fee applied to your deposit payment.

If we have already delivered your rental we will not offer a refund or a "rain check".
Do you have a Question that was not answered? If so, please email us at jump@coastalmoonwalks.com to let us know your questions. We will respond within 24 hours.

How do I make a reservation?
You can make a reservation by calling us a 904-403-2388. You can also browse our current inventory and reserve your items online. Start here »


Copyright © . Coastal Moonwalks. All rights reserved.